Curriculum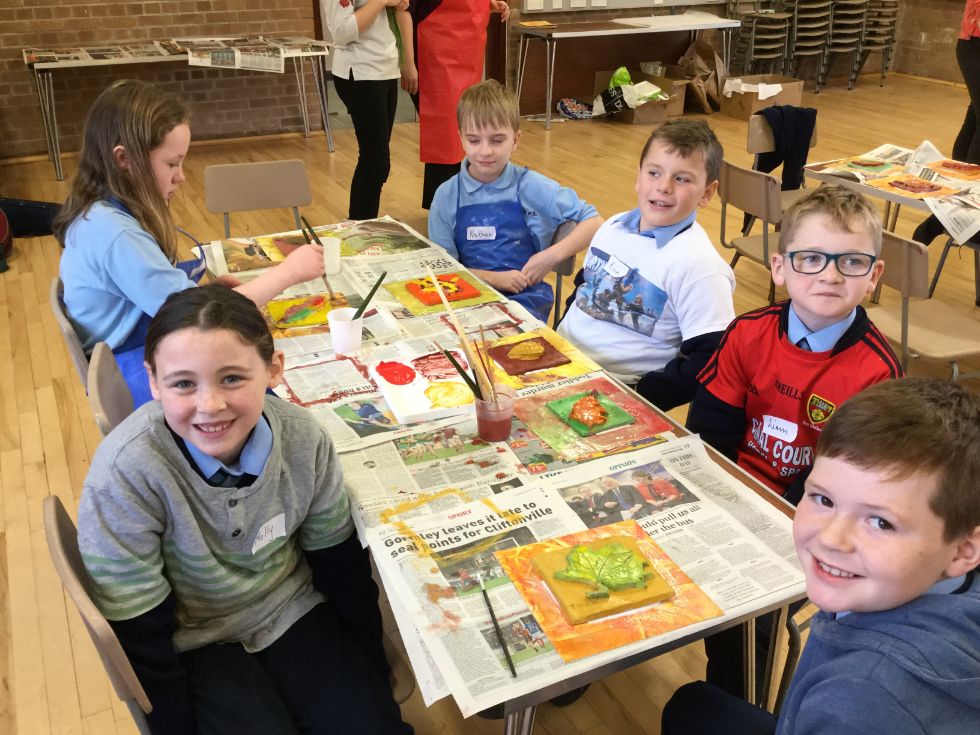 Shared Education Classes - P5/6 Art & Design
Shared Education Classes - P5/6 Art & Design
Shared Education Classes - P5/6 Art & Design
Shared Education Classes - P5/6 Art & Design
Shared Education Classes - P5/6 Art & Design
Shared Education Classes - P5/6 Art & Design
Shared Education Classes - P5/6 Art & Design
Shared Education Classes - P5/6 Art & Design
Shared Education Classes - P5/6 Art & Design
Shared Education Professional Development - Art & Design
Shared Education Professional Development - Art & Design
It is the policy of the Board of Governors of St. Joseph's Primary School that, in accordance with its Catholic Ethos, a balanced and broadly based curriculum which promotes their spiritual, moral, cultural, intellectual and physical development, will be offered to all pupils, thus ensuring their full entitlement under the Northern Ireland Curriculum. Through the Areas of Learning and contributory elements, a broad and balanced curriculum will be provided for each child.
The NI Curriculum primary curriculum is made up of Religious Education plus the following Areas of Learning:
Foundation Stage: P1-P2:
Language and Literacy
Mathematics and Numeracy
The Arts
The World Around Us
Personal Development and Mutual Understanding
Physical Development and Movement
Key Stage 1: P3-P4 & Key Stage 2: P5-P7
Language and Literacy
Mathematics and Numeracy
The Arts
The World Around Us
Personal Development and Mutual Understanding
Physical Education
Contributory Elements:
Cross-Curricular Skills:
Communication
Using Mathematics
Using Information and Communications Technology
Thinking Skills and Personal Capabilities:
Thinking, Problem-Solving and Decision-Making
Self-Management
Working with Others
Managing Information
Being Creative
Religious Education
Our school community is centred on the presence of Christ among its members. The example and values of Jesus Christ permeate all the relationships within the school and beyond it.
Religious education is central to the everyday life of St. Joseph's Primary School and embodies everything that we do as teachers and pupils. Religious education is based on Diocesan Policy and the Alive-O Series. The Diocesan Advisors play an important role in the promotion of religious education within the school, as does our Parish Priest. The school will, in partnership with the parish, instruct children in their preparation for the sacraments of Reconciliation, Eucharist, Confirmation and Feast Days, Holy Days, Lent, Christmas and Easter. The school aims to be an extension of, and a complement to the Catholic home, and places a high priority on fostering involvement in the parish and in the community at large.
Our R.E. programme, based on the 'Grow in Love' series goes beyond the requirements of the core R.E. syllabus agreed by the main churches. It prepares each child for participation in the liturgy and sacraments of the Catholic Church. Religious Education is not confined to the timetabled programme within the school but pervades the whole life of our school.
The Board of Governors recognise the right of parents under Article 21(5) of the 1986 Order to have their child excused, in whole or in part, from attending religious education or collective worship or both.
Shared Education
All our pupils actively participate in our Shared Education Programme, with our neighbouring primary schools, Kesh and Lack. Together we are know as, 'North Fermanagh Learning Together' (NFLT). Through this programme our children learn together in a spirit of tolerance, understanding, respect and reconciliation. Currently, our P1-2, P3-4 and P5-6 pupils are linked with Lack P.S. P2-3 and P6-7 pupils are linked with Kesh P.S. Shared education classes usually take place on Tuesdays (St. Joseph's and Lack) and Fridays (St. Joseph's and Kesh).
St. Joseph's Primary School, 12 Ardvarney Road, Ederney, Enniskillen BT93 0HA | Phone: (028) 68 631403